On December 12, 2023, please not that our office door will close from 12:00PM until 1:30PM for a staff event.  The doors will re-open at 1:30 PM.  We are sorry for any inconvenience
Hours of operation:
Monday, Tuesday, Thursday and Friday 8:30 a.m. – noon & 1 – 4 p.m. and Wednesday 8:30 a.m. – noon
.
COVID-19:
We provide services virtually, by telephone, and in person. If you do not have a phone or internet, please call ahead to schedule a time to visit the office.
Read more about this.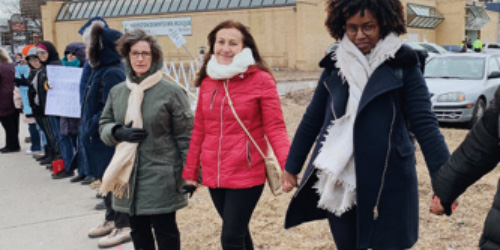 Hamilton Roundtable for Poverty Reduction
Hamilton has a history of pulling together. The Hamilton Roundtable for Poverty Reduction (the Roundtable) was formed in 2005 to tackle the City's unacceptable levels of poverty. HCLC became the sponsoring agency for the Roundtable in 2015.
Roundtable members come from across Hamilton and include leaders from the business and non-profit sectors, from government, education and faith communities as well as individuals who experience poverty daily. Through the work of volunteers and staff, the Roundtable seeks to build understanding about the need to invest in poverty reduction to create a healthier, inclusive and more prosperous Hamilton.  We work locally, provincially and nationally on policy and systems-level change to achieve long-term solutions to poverty.
The Hamilton Roundtable for Poverty Reduction was recognized with the 2017 "Leadership in Poverty Reduction Award" by Vibrant Communities Canada for stellar leadership in advancing poverty reduction.  More recently we have worked on areas such as a Basic Income concept, predatory payday lending, living wage and decent work standards, accessing financial supports through tax filing and a speaker's bureau for people with the lived experience of poverty.  For more information, visit our website at www.hamiltonpoverty.ca